Jeremy and I met in 1999 after I moved to Atlanta from New Brunswick, Canada. My brother knew David York, the original owner of Barking Hound Village, and that's how I started with the company. Jeremy had been working as a white water raft guide at the Ocoee River in Tennessee and we met when he joined BHV a few months later. It was love at first sight.
A few weeks passed before Chip came into our lives. He was abandoned at a grooming salon and needed a new owner. Once again, it was love at first sight.
After several years and many Atlanta locations later, David asked us to begin BHV Austin. We got married at Jeremy's father's farm house in Jasper, Georgia then packed up the Isuzu Trooper with Chip and drove to Texas.
Two years later, David asked us to create BHV Dallas. By this time we had adopted Brownie in Austin, so now the four of us packed up (ok, the dogs didn't do any packing) and drove north on Interstate 35 to Big D. Then in February of 2007 David decided to sell Austin and Dallas, so we worked out the deal for Jeremy and me to buy the two locations. With a few signatures, Barking Hound Village Texas was born.
In July '11 the most adorable German Shep/Corgi mix came into BHV as a foster from Paws in the City. Banjo only stayed at BHV a couple of nights; he fit perfectly into our family and loves to travel all over the country with us.
The beginning of 2012 was a sad time as we had to say goodbye to our beloved 14 ½ year old Chip. He was our best friend and had been through everything with us. We spread his ashes in the spring at the Georgia farmhouse and the Ocoee River, both of where we spent most of our time for the first four years of our lives together. He was a very special dog and we will always carry him close in our hearts. We love you Chippy choclito, the Chippy dog champion! 🙂
So here we are happily married and loving what we do. We work hard every day to make Barking Hound Village the best experience for you and your dog(s).
Every dog is a guest with us just once. After that, they become a wonderful member of our ever-growing BHV family.
Lisa & Jeremy Jones
Owners, Barking Hound Village Texas
---
Managers
General Manager – Austin
Vanessa Calabria
After my 2001 graduation from St Edwards University in Austin I knew I'd have to search far and wide to find an animal-related job. The market was tough, but I landed a job training a variety of domestic animals in a Sea World show.
In September 2003, the show closed and I found myself looking for work back in Austin. I answered an ad for part-time help, met Lisa and Jeremy, and the rest is history. I began as a part time kennel tech with Lisa and Jeremy as my managers. Barking Hound Village was small back then; we were a new business trying to make a name for ourselves. I was excited to work with dogs, but wasn't so sure about where my future would take me. From the beginning Lisa and Jeremy were supportive.
I took a short leave of absence in 2004 to train birds of prey and exotic birds at a State Fair of Texas show. I returned to Austin after the show and was offered the chance to manage Barking Hound Village full time. I jumped at the opportunity.
I have been an animal lover since I was a small child. Dogs have always been in my life, sometimes as many as five at time, along with many other animals. Currently I share my home with four dogs: ZuZu- a Blue Heeler, Adelaide-a Heeler Mix, Gnocchi – a Pekingese and my newest addition Lanna B. I also have a cat named Freddie Mercury, two birds including my cockatiel Orville and two tortoises, Shelley and Godzilla! All these animals made up my family, but we just needed one more member to make it complete.
On May 5, 2012 Paul and I got married with one of my dogs and Lisa as part of the wedding party. Lisa and Jeremy have also become family to me and we all share a love of dogs. So along with all the pups I currently take care of at BHV I have a big, extended family. That shared feeling is why BHV will always strive to make your family members part of our family too.
Vanessa
---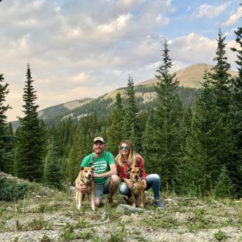 General Manager – Dallas and Dallas-Central
Jennifer Wallace
Back in 2005 I was pursuing a job working with animals and came across an ad for the newly opened Barking Hound Village Dallas. I loved the vibe when meeting with then manager Lisa Jones and began work immediately. I originally intended for the position to be a fun, flexible job while attending college, but when Lisa and Jeremy bought BHV Texas they eventually offered me a promotion to store manager for Dallas. Having always lived in Texas and being a dog lover I decided there was no place I'd rather be or work. Having had the opportunity to grow with BHV and our clients has been a huge part of my life.
In 2002 I got my first dog Roxi, a 10 week old red heeler mix. Having my very own puppy at such a young age helped me mature into a responsible adult so I could provide her the best life possible and help her blossom into a wonderful companion and best friend.  In 2016 we added Piper to the family, a red heeler/catahoula mix puppy. Both girls are like my children who work, travel and hang with me as much as possible. Sadly we said goodbye to our beloved (17 year old) Roxi to cancer in 2018.  I'm a believer that my dogs pick me, so stay tuned for a new addition as soon as it finds me 🙂
I consider Lisa and Jeremy, the staff, and BHV as a whole, a part of my family. With 2 Dallas locations our clientele has grown substantially over the years and I look forward to caring for our long-time clients as well as future ones.
Jenn
---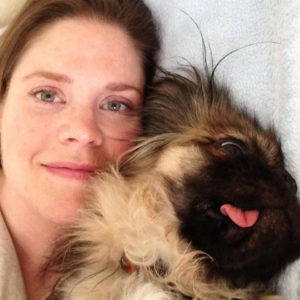 Dallas Manager
Devon
I grew up in Dallas in a close family. Although both sets of grandparents lived in Massachusetts, we made a trip every summer to visit the beach in Rhode Island for many years to spend time with them. As my sister and I grew older, our dad took us wilderness camping in the Gunnison National Forest in Colorado. There we learned to love nature, hiking and fly fishing. Now we enjoy time away from the hot Texas summers in Maine together as a family.
In 2005, I fell in love with my first dog (my "heart dog"), Jamie, while looking on Petfinder. I was going away, but decided that if she was still available when I returned that we were meant to be. We had four wonderful years together before she crossed the rainbow bridge. Adopting Jamie from a rescue group and becoming a dog mom changed my life forever. After that experience I became involved in rescue work which includes volunteering and fostering. My boys, Jinx (little peke) and Levi (big peke) are both "foster failures." I just knew they were home already!
As the newest member of the BHV managerial staff, I feel so fortunate to have found my happy place. I am grateful to Jennifer Wallace for her guidance and patience as I learned the ropes. I am thankful that Lisa & Jeremy recognized my passion and potential to excel. I look forward to offering my best to our clients and their fur children.
Devon
---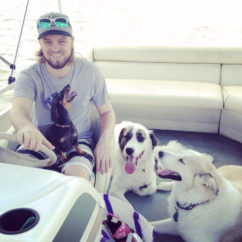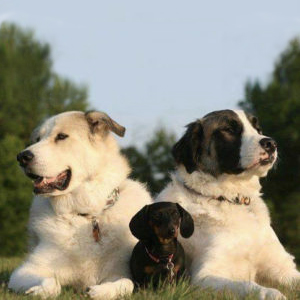 Dallas-Central Manager
Philip
I was born and raised in East Dallas by parents who moved here from Liverpool, England. For as long as I can remember, I have always had a love for animals, in particular dogs. Growing up I had a Labrador Retriever and then a Beagle. My first job was as a Veterinarian Technician where I worked part time for 2 years while in high school. After graduating from Bryan Adams and attending 1 year of Community College, I decided to move to Vail Colorado for 1 ski season. I ended up staying for 6 years working at Beaver Creek Ski Resort. My love for the outdoors, snowboarding, and beautiful mountain scenery was eventually overpowered by my love for my high school sweetheart, Katelin.
I moved back home in 2009 and needed a new career. Loving what I do has always been my biggest concern when seeking out professions. I had 2 options. Working with dogs or children. I found a Craigslist ad for Barking Hound Village and interviewed with Lisa on my 25th Birthday. I quickly fell in love with BHV, our pups, and our clients. With guidance from Lisa, Jeremy, and Jennifer and my passion for the job, I was eventually promoted to Assistant Manager in 2012.
I currently have 3 rescue pups. Shipley the Great Pyranees/Husky, found outside a Shipley's Donuts. Dunkin the Great Pyranees/St. Bernard, found in the parking lot of BHV Dallas. And eClare the Dachshund, the runt of an unexpected litter born on a farm outside Dallas.
In August 2015 my wife and I were blessed with the birth of our son, Tyler. Shortly after he was born, I left Barking Hound to pursue a new career. In the 3 years I was gone, I stayed in touch with Jeremy and Lisa. My love for the job and dogs constantly drew me back to BHV.
January 15, 2019 was my first day back at BHV and I knew I was home and here to stay. I love going to work each and every day caring for and loving your pups. Barking Hound has always had a way of bringing our employees, dogs, and clients together into what feels like a family. I look forward to being a part of that family for many more years to come.
Philip