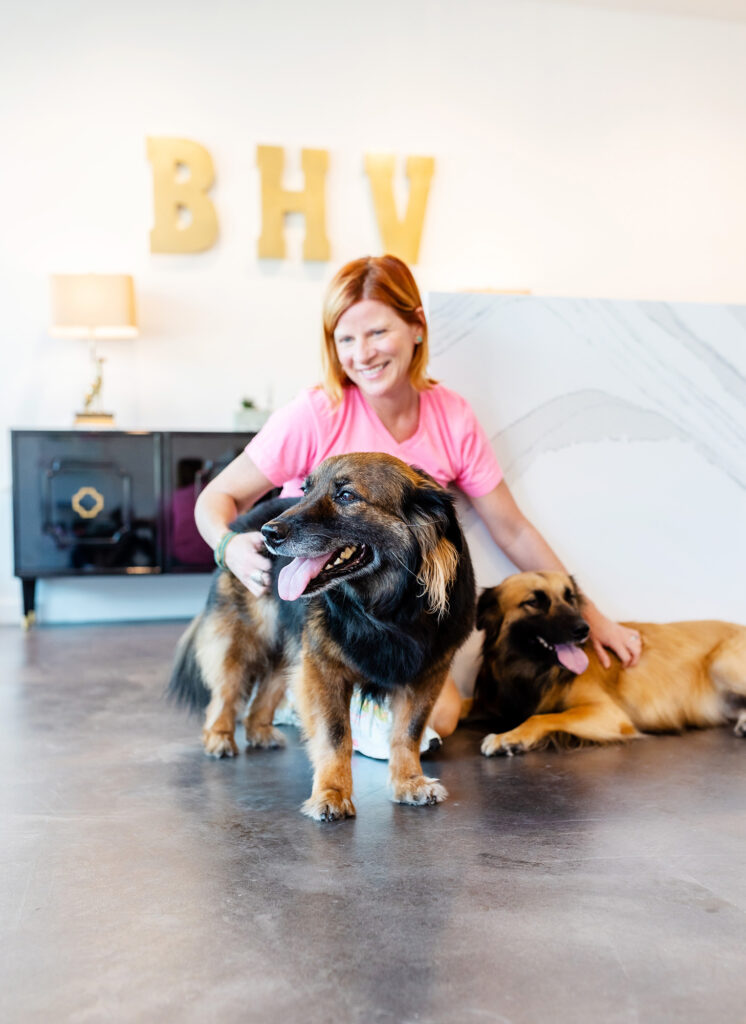 02.23.2023
BHV Guide: Preparing Your Pup For A Boarding Stay
Barking Hound Village is the premier Texas, luxury dog hotel offering boutique style boarding and daycare services. As we primarily accommodate boarding reservations, we strive for BHV to be your four-legged best friend's home away from home! As pet parents ourselves, we realize how nerve wrecking preparing for a first time boarding stay can be. Putting a plan in place and prepping them for their stay ahead of time will provide peace of mind for both you and your pup/s!
Visit your Veterinarian
Before you get started on this journey, give your Veterinarian a call or visit as some vaccinations required for boarding may need to be administered 1-2 weeks prior to their stay. We will also require this information upon sign up so be prepared!
BHV requires up-to-date records of the following prior to any service:
Rabies
DHLP
Fecal
Bordetella/kennel cough
Canine Flu vaccine is highly encouraged (not required)
Get started with a trial day of daycare
At BHV, we require all new dogs to complete and pass a trial day of daycare prior to any future boarding reservations. During their trial day, your dog will participate in scheduled group play (daycare), during group we can then evaluate their unique personality and pair them with similar dogs during play time in the future. This will also give your dog a bit of time to get acquainted with our facility and familiarize themselves with the staff. After a successful trial day of daycare, front desk staff will give you a verbal report upon pick-up and follow up with you on your future service needs. If your pup isn't accustomed to being in an environment with other dogs, we
recommend a few extra days of daycare prior to their boarding stay.
Packing for your Pooch
Bedding
Food and treats (BHV does not permit rawhide treats in-house)
Medication
Specialty bowls (slow feeders, snuffle mats)
BHV offers a boutique style of boarding, so when they aren't romping around outside during group time, they have a spacious suite to call their own; including a frequently filled water dish and Kuranda cot for nap time. You are more than welcome to pack bedding, toys, or clothing that will remind them of you and their home. This can help them feel more comfortable, and will also remind them that this is a temporary oasis! Label all belongings if possible, even though each dog has a personal space, potty accidents do happen and things may get mixed up in the laundering process.
As for food, while we have plenty in-house we highly recommend sticking your dog to their normal diet to avoid stomach upset caused by sudden diet change. We have a client specific refrigerator and deep freezer if their feeding requirements utilize these. When packing food, we recommend portioning out each meal for their entire stay and double checking it once you have finished; it doesn't hurt to pack a little extra in the case of personal emergencies or travel delays. If they take medication or will need medication on a specific date, please make sure they are labeled accordingly and that they will have enough for their entire stay (again, packing extra will never hurt!). Now that's all sorted, we also recommend packing their prepared things into a labeled bag.
Time to Check-in
Your pooch's long awaited, luxury getaway is finally here! Once you and your pup have arrived, inform the front desk staff of what you packed and their feeding routine; they'll gather any other information they feel is necessary for your pup's stay, and time for vacay! Before you go, we post photo & video updates of our furry guests on Facebook so don't forget to join the fun during their stay. We hope these tips aid in a happily adjusted pup upon their first boarding stay at BHV.